Today's small business owners are fighting to create bottom line results without burnout. Dawn studied 50 of the region's most successful small business owners to distill the framework that creates sustainable growth, profitability and peace of mind.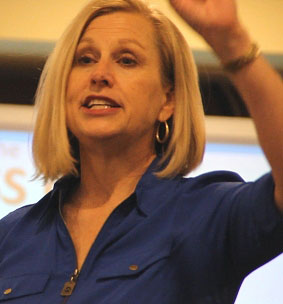 Your audience will learn how to:
Deliver better results with less effort
Forge a healthier bottom line
Become an inspirational leader
Get efficient and stay that way
Prevent marketing mistakes that cost big money
Turbo charge their sales efforts
Build an engaged and productive team
Keep customers coming
Dawn Drozd is the author of The Success Code: 9 Principles for Small Business Success in Any Economy and was named one of the top 150 coaches in the world. Over the last decade, Dawn has worked with small business owners to grow revenues by an average of 40%.
Hire Dawn for your next corporate meeting, keynote, panel, meeting facilitation, retreat, and other forums.
Dawn leads audiences with a high-energy, fast-paced mix of practical takeaways and inspiration that small business owners can use immediately to grow profits while working less.
Here's What Participants Say
"Dawn taught me to be a better leader and that in turn raised the bar for our entire team. The focus on leadership, ownership and commitment helped us achieve our best year ever!" ~Michael Chilcote, COO, Mt. Elliott Cemetery Association
"I have taken Dawn's Intentional Leader workshop and I can tell you it's the best money I ever spent! Not only did
I learn how just tweaking one component of my marketing strategy can increase many-fold my company's profits, but just how simple it can really be." ~Shannon Lamarche, Producer/ Managing Partner, QOA Entertainment LLC
"Dawn was the keynote speaker and did a phenomenal job. Dawn is passionate and enthusiastic about her
job and wants the same for others. The insight that she shared during her presentation was applicable for everyone in the room and she showed us all how we could take action to be better." ~Maureen Rovas, Senior Community Representative, American Cancer Society
Past Clients
Listed in alphabetical order…
Better Business Bureau
Building Industry Association
Complete Communications
Dencap Dental Plans
Detroit Metropolitan Apartment Association
Downriver Networking Group
Excel Vision Institute
First State Bank
Habitat for Humanity
Macomb Chamber Commerce
Macomb Foundation
Macomb Probate Bar Association
Michigan Association of CPAs
Michigan Association of Female Entrepreneurs
Michigan Business & Professional Associations
Michigan Cemetery Association
Michigan Financial Group
Michigan Optometric Association
Revenue North
Conference
Shelby Eyecare Associates
Sterling Heights Regional Chamber of Commerce
Walsh College
Young Dentist Association
Booking Details
If you're interested in booking Dawn Drozd as a speaker, please contact ClearVision at (586) 323-5150 or send an email to info@clearvision.us.com.